A couple of weeks ago I had the honor of making a high school graduation cake for a family friend named Makayla. Makayla is a fun loving, red-head who is full of enthusiasm for life. She always has a smile and a unique outlook on the world. I love being around her and I couldn't wait to sit down with her and find out what she wanted her special cake to look like. I assumed she would have some creative ideas that would be both fun and challenging to make. I wasn't disappointed.
She had already thought a lot about what she wanted her cake to look like and her metaphorical mind came up with a neat design full of lots of meaning. I was in love with her ideas and couldn't wait to get started. I should have gotten started right away, as there were lots of chocolate pieces that needed to be sculpted. Of course, as always, life got in the way and I didn't get started until much later than I had planned so I was working on it all the way up until the moment I had to deliver it to her party. I was exhausted by the time I showed up at their door but seeing the excitement on Makayla's face and the tears of joy and gratitude that had formed in her mother's eyes, quickly revived me. It is hard to beat a reaction like that. That is the reason I love making cakes.
Makayla wanted the cake to represent her life, so she wanted the main cake to be a large open book that contained everything she loved on one side and then an empty page on the next side with just a big question mark that she would be walking onto. This was to represent her walking on from her current life and into an unknown future. She even requested that the blank page say "Chapter 19" at the top to represent the 19th year of her life.
On the bottom cake she wanted pictures of her family and friends surrounding the cake. This gave me an excuse to buy a printer with edible ink and edible paper. It was my first time using edible printed images and I was really excited with how they turned out and how much they added to the cake. Her favorite flowers are gerbera daisies so I had to make sure I included them somewhere on the cake as well. I made the daisies out of gumpaste.
Here was the cake as a whole, from the front view. It was a cake that you really had to get up close to and look at from all angles to capture every part of it. All of the figures on it were made from modeling chocolate.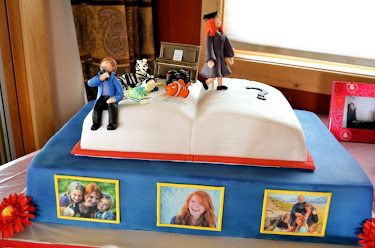 So, what were all the things that are most important to Makayla in her life right now?
Well, there are her green Converse shoes,
Her Nikon camera,
Nemo (he ended up being my favorite) and her favorite Bible verse,
High School Musical movies,
Her love of travel,
Africa, which she fell in love with after spending time there on a mission trip,
Playing her piano,
Math,
And the most important part of the cake had to be her all time favorite singer, Justin Bieber!
My chocolate Bieber may have had a face that was more likely to scare the girls than make them swoon but what he lacked in good looks he more than made up for in sweet taste.
Everything really came together to create an edible conglomeration of Makayla's life.
I feel blessed, not only to have made her cake, but to also have been a part of her life. Good luck and many blessings to you, Makayla, as you walk forward towards the big question mark of the future.
Until next time, God Bless and Sweet Dreams.